Mosquito Morphological Identification Keys by Region
---
We have highlighted the geographic areas that pertain to the dichotomous keys listed below.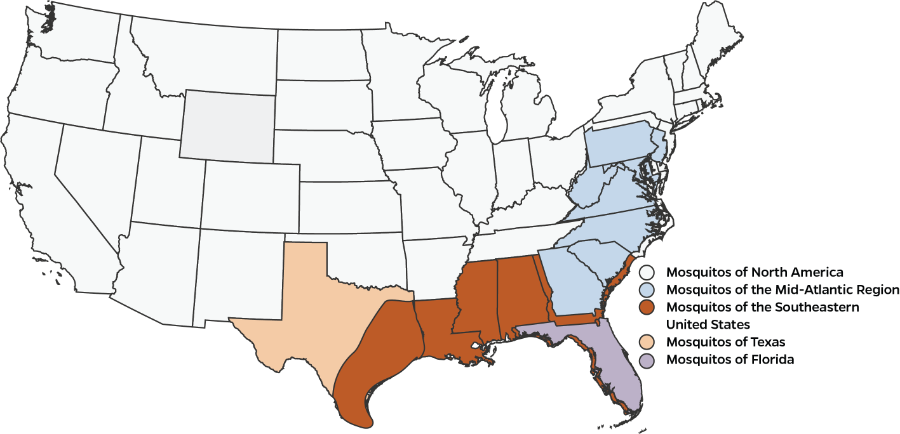 References
Burkett-Cadena, N.D. 2013. "Mosquitoes of the Southeastern United States." University of Alabama Press, Tuscaloosa, Alabama, USA.
Byrd, B.D., Harrison, B.A., Parker, B. Whitt. 2016. "The Mosquitoes of the Mid-Atlantic Region: An Identification Guide." Western Carolina University Mosquito & Vector-borne Infectious Disease Laboratory, North Carolina, USA.
Darsie, R.F., Morris, C.D. 2003. "Keys to the Adult Females and Fourth Instar Larvae of the Mosquitoes of Florida (Diptera, Culicidae)." Technical Bulletin of the Florida Mosquito Control Association.
Darsie, R.F., Ward, R.A. 2005. "Identification and Geographical Distribution of the Mosquitoes of North America, North of Mexico, 2nd Edition." University Press of Florida, Gainesville, Florida, USA.
Rueda, L.M. 2020. "Chapter 4 - Key to the Species of Adult Female Mosquitoes of Texas." In Mosquitoes, Communities, and Public Health in Texas. pp 172-192. DOI: https://doi.org/10.1016/B978-0-12-814545-6.00004-3.